Afternoon Pit Fans,
It is a balmy 24 degrees out today in the City of Brotherly Love, and waiting for the R5 today certainly gave me pause for ever again exclaiming that I like winter. This is false. Today, I did not heart winter, in fact, I hated every second of every minute that I was out of my car waiting for the perpetually late 7:14am train from St. Davids.
What astounded me even more than my revelation that I am in fact a summer person, was the fact that everyone else at the station was WAY less dressed than I was and knowingly left the house like that! There was even a man talking about how cold it was (he said his car read 12 degrees, as did mine) and yet was standing there in a trench coat (maybe it was lined, but still!) no hat, no gloves AND no scarf! What is wrong with people? Do you think that makes you tough to be out in the freezing cold with nothing protecting you? I know I may look kind of doofy in my big down coat, but I bet I was warmer than all the idiots on the platform with me.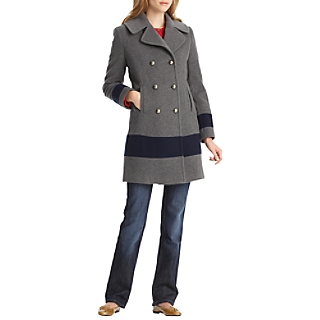 Anyways, enough of that rant...on to the fun stuff. I saw
this
coat online today and not only is it TDF, but also on sale, yippee! I think Mr. Pit might yell if I come home with one more closet busting piece of outerwear, but honestly, how cute is this?! I could wear it to the PSPCA benefit we are going to tomorrow night...but alas, even if I ordered it right this moment I am not sure it would get here on time. That's ok though, I do have enough coats to last me a life time, and since we will have spring-like weather this weekend I am hoping I can put my big down coat into seasonal retirement sooner rather than later.
Oh, and to double up on the irony, we leave for our ski vacation in Breckenridge in 3 weeks and 2 days, yippee!
Have a great evening!
xoxo Mrs. Pit
p.s I am SO excited for the double episode of Greys and Private Practice tonight, yay!