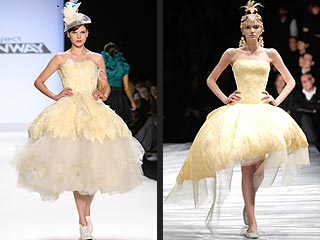 Afternoon Pit Fans,
so, first off, lets do our weekly run down of Project: Runway and see how we fared last night.
And let me say this, I can't TELL you how excited I was that their projects were wedding dresses. I am OBSESSED with wedding dresses. Choosing mine that I wore two years ago was some of the most fun I have ever had (and it was all done in a day as I found my dream dress after trying only 9 others on!) so I love any excuse to talk/think/dream about wedding dresses and what would have been if I hadn't bought mine. (See right, mine was SO plain and simple and impossibly me...I still want to wear it all the time and am thinking of getting it dyed Navy Blue so I can wear it to a ball or something in the future. What do you think?)
I have to say that I LOVED Kenley's dress with all the feathers. And, though I have seen pictures of the Alexander McQueen version, (See above) I don't think that Kenley is stupid enough to rip off his design so blantantly in front of such high-end fashion talent. Or if she is that dumb she deserves a smack...but I digress.
I also loved Leanne's wavy dress, though I wouldn't wear it myself, I think it is the peak of couture wedding dresses and I knew it would be an instant judge pleaser.
Heidi was as nice as could be to everyone, and when Tim Gunn cried I almost shed a tear msyelf.
Anyways, onto more important things...the big decision I was going to make was to make a purchase of an embroidery machine, namely the Singer Futura CE-250. Then, I had lunch with my friend E, whose mother sews A LOT who recommended nothing but a Bernina. Now, I for one had only ever heard of a Bernina but didn't know anything about it. What I did find out is that they are considered the Bentley of sewing machines, and if you can afford to take the 2nd mortgage on your house, you should buy one hands down. So, if the train is on time tonight (which come on, is it ever?) I plan on heading to the only
store
near us that sells these amazing machines and getting a demonstration of why I should spend half my monthly salary on one.
Wish me luck!